Canada: 'Spirit Moose' hunt death angers natives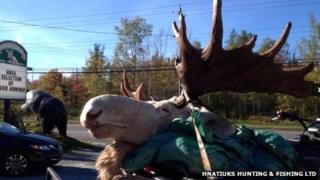 Canadian hunters bagged more than they bargained for when they killed a rare white moose, which - it turns out - is considered sacred by aboriginal groups.
After shooting the albino animal in Nova Scotia's Cape Breton highlands, the hunters earned a furious reaction when they posted pictures of themselves posing with their kill on Facebook, CTV reports. While killing a white moose is not illegal, the local indigenous Mi'kmaq community believe it's a bad omen and ask hunters to respect their belief that it's a "Spirit Moose". "We are not to harm them in any way, shape, or form because they could be one of our ancestors coming to remind us of something significant," Mi'kmaq Danny Paul told CBC.
The hunters said they wouldn't have killed the moose had they realised, according to hunting shop owner Jim Hnatiuk, who'd been asked to mount its head. "They thought they had a successful moose hunt. It was odd that they shot a white moose, but... wow, there's a lot more behind it," he told CTV. To make amends, the animal's hide has been donated to the Mi'kmaq for a four-day ceremony for community members. And the hunters are invited too, according to the Truro Daily News.
Use #NewsfromElsewhere to stay up-to-date with our reports via Twitter.