Russia: Arrests over Putin 'birthday greeting'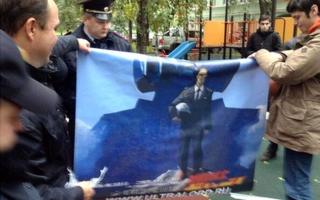 The brother of a Russian deputy prime minister was arrested for trying to convey "birthday wishes" to Vladimir Putin by hot air balloon, it's reported.
The Moscow Times says businessman Mikhail Dvorkovich was among four people detained over the plan to lift a cartoon-style poster into the Moscow sky, captioned: "Happy Birthday, Ultralord!" It seems the police took it to be an opposition protest and deemed the poster insulting, arresting him for holding an "unauthorised picket". However, Mikhail - brother of deputy PM Arkadiy - tweeted to insist he merely wanted to congratulate the president on his birthday.
Last year, Mikhail Dvorkovich's birthday greetings to Putin caused no less of a stir. He unfurled a huge banner bearing the president's portrait across the front of a building on the banks of the Moscow River, with a caption saying: "It's nice of you to come! Happy birthday!" Putin, who turned 61 on Monday, wouldn't have seen the poster anyway - he was at a summit in Bali.
Use #NewsfromElsewhere to stay up-to-date with our reports via Twitter.