China: Smartphone use 'blamed for traffic jams'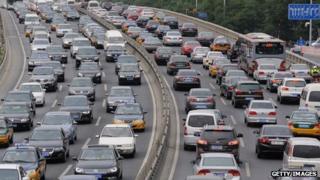 Drivers playing with smartphones were to blame for crashes that at one point saw gridlock on 20km (12.4 miles) of Beijing roads.
At least that's the verdict of traffic authorities who analysed accident data relating to the "golden week" holiday, which ended on Monday, reports Hong Kong's South China Morning Post. It cites a report in Beijing Daily which says authorities identified drivers talking to friends on instant messaging platform Wechat, or snapping photos and posting messages on the microblogging site Weibo, as the primary cause of collisions.
Beijing is no stranger to traffic jams, with some lasting for hours or even days. The week-long holiday season sees millions of Chinese on the move, leaving cities for their family homes. Some 7.7 million took to the air aboard 76,000 flights last week, according to Civil Aviation Administration figures quoted by news agency Xinhua. It says 70 million were on the railways. But many more opted to drive, encouraged by the suspension of road tolls for small vehicles during public holidays, says official paper China Daily. About 600 million travellers were expected to be on the roads over the seven days.
Use #NewsfromElsewhere to stay up-to-date with our reports via Twitter.