UAE: Fines for 'washing car in public'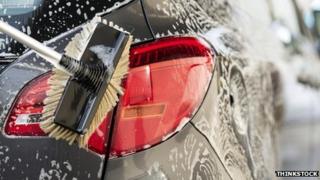 Washing your car in a public place is illegal in Abu Dhabi, it turns out.
And authorities in the city have warned 119 motorists they'll be fined 500 dirhams ($136, £85) if they're caught again, according to reports from the United Arab Emirates. Apparently, the waste water creates a breeding ground for mosquitoes and can damage road surfaces. Gulf News quotes the city's public health director as saying the practice can even cause floods in low-lying areas, although it doesn't explain how.
Residents are told to take their cars to garages to have them washed. However, the campaign hasn't deterred some. Gulf News suggests building watchmen are happy to do it when the streets are quiet. It quotes Bangladeshi Mohammad Islam, 28, as saying it can be done without polluting the environment. "You are caught if you use too much water only," he says.
Use #NewsfromElsewhere to stay up-to-date with our reports via Twitter.