Turkmenistan: Monument honours ex-leader's horse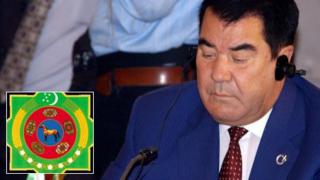 Turkmenistan is to create a monument in honour of an ex-president's favourite horse, it's announced.
The stallion belonged to late authoritarian leader Saparmurat Niyazov, also known as "the eternal president" and "father of all Turkmen". Under his eccentric rule, the traditional Central Asian love of horses was elevated to the level of state ideology. An annual Day of the Horse was established, and the presidential stallion - Fiery Mountain - was placed at the centre of the national emblem. He also gave his name to a Turkmen money transfer system.
Niyazov's successor, President Gurbanguly Berdimuhamedov, is also a big horse fan, chairing a horse-breeders' union and having penned a book about the animals. He's ordered a monument to Fiery Mountain be built to make the Turkmen capital Ashgabat "look even better in the era of power and happiness", it was announced through the state news agency. Much of ex-President Niyazov's personality cult - involving a revolving gold statue and renamed months and days - has been dismantled. But under a different authoritarian leader, Turkmenistan remains impoverished and isolated. Reacting to the monument announcement, one reader of independent website Chrono wonders why nothing is being done to honour "victims of Niyazov's repressive rule".
Use #NewsfromElsewhere to stay up-to-date with our reports via Twitter.