Saudi Arabia: Teenagers who mock Islam 'face therapy'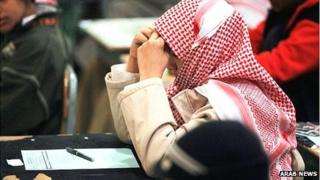 Saudi schools are threatening teenagers who mock Islam with compulsory therapy, it seems.
The education ministry has told headmasters to deal with reports of students making fun of Islam's rituals or discussing subjects and ideas that violate Islamic law through "behavioural adjustment and life-skills sessions", combined with "voluntary" community service, Arab News says. It quotes sources as saying the code will suspend miscreants for a year and only allow them back if the local education authority is satisfied with their progress.
Some local teachers are delighted. "I have some students who laugh during prayers. The threat of serious punishment will help foster greater respect towards religion," Abed Mansour is quoted as saying. "Most of them have been affected by globalization and are carried away by a desire to imitate what they see as Western freedom," adds Abdullah al-Turki. Comments on the site show some support for the measures, but also criticism. One American Muslim teacher in Jeddah complains that pupils mocked his beard and called him "Bin Laden". But another poster asks whether the code isn't an admission of weakness: "After all, we are a tolerant people and comfortable of our own beliefs, regardless of what others say."
Use #NewsfromElsewhere to stay up-to-date with our reports via Twitter.