Iran: No more 'Death to America'?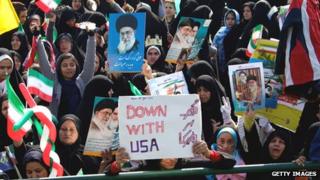 It's hard to imagine Iranian Friday prayers without clenched-fist chants of "Death to America" but signs of detente with the US have some commentators wondering whether the slogan has had its day.
Since presidents Barack Obama and Hassan Rouhani made the first executive-level phone call for 30 years last week, one prominent preacher insists the slogan isn't Holy writ. "It's not like the Koran commands us to chant 'Death to America' for ever," Mohammad Taqi Rahbar told Qanun newspaper. "We used to shout 'Death to the Soviet Union' too, but, just as we've sorted things out with the Russians, so we can sort things out with the US," he added, drawing an analogy popular in the pro-reform media. Some journalists were more forthright; Sadeq Zibakalam wrote in Sharq newspaper that young Iranians "no longer believe in hostility to the US".
Rouhani government officials seem to be distancing themselves from the slogan. Foreign Minister Mohammad Javad Zarif told ABC News that it reflected opposition to "US policies, not the American people", and Asr-e Iran website dated it back to the US embassy siege in November 1979, as dramatised in the film Argo. Ex-President Akbar Hashemi-Rafsanjani upped the stakes by saying the revered founder of the Islamic Republic, Ayatollah Khomeini, had favoured dropping "Death to America" back in the 1980s. The Ayatollah's own granddaughter also called for it to be dropped from Friday prayers in a Facebook post.
But conservatives are coming out fighting. Supreme Leader Ali Khamenei's man in the Revolutionary Guards, Ali Saidi, for example, says Mr Rafsanjani has no evidence for his Ayatollah Khomeini claim. "Our disagreements with the US government remain fundamental and deep," he told Neda-ye Enghelab website. Hardliners who oppose President Rouhani's overtures to the West pelted him with a shoe on his return from the UN General Assembly last week, to defiant cries of "Death to America".
And despite the apparent thaw in relations, AP news agency reported this Friday that the master-of-ceremonies led the crowd into the chant at least twice during prayers. It was then repeated several times by a group of worshippers who rallied after the ceremony, burning the American and Israeli flags, as they do almost every week. Iran-watchers are now waiting to see what happens on 4 November, the anniversary of the storming of the US embassy in Tehran, when the slogan usually gets its most prominent annual airing.
Use #NewsfromElsewhere to stay up-to-date with our reports via Twitter.