Altered Images: Al-Shabab leader 'uses my identity'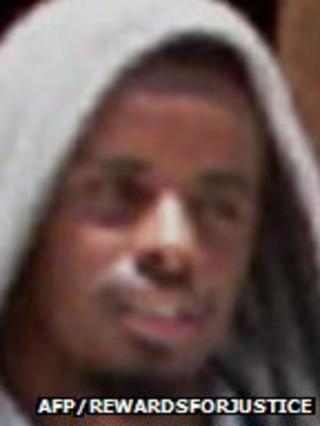 A man claims his photograph has repeatedly been used to illustrate stories about the leader of Somalia's radical Islamist group al-Shabab.
Shuuke Abdirahman Odowa - reportedly a reformed militant who joined the Somali government in 2009 - told the Somali Investigative Report website this week that his photograph was first used in error alongside an internet copy of a speech by al-Shabab's Ahmed Abdi Godane. The picture has since been mistakenly picked up by other media, it appears. It's not the first time Odowa has made the claims but previous reports were largely restricted to specialist blogs. So far, his complaints appear to have fallen on deaf ears, to the extent that he claims Godane - who's said to have masterminded the recent mall attacks in Kenya - is taking advantage of the confusion.
"Now [the photograph] has widespread to the world and people believe that it is him," he's reported to have said. "[Godane] utilized my photo to use so as to mislead the world." The BBC hasn't spoken to Odowa but it appears he may have a case. A photograph on the US government's Rewards for Justice website reveals a very different image from the thin bespectacled man that's appeared on many sites, and which we've chosen not to reproduce. Godane, who was thought to be instrumental in al-Shabab's link-up with al-Qaeda, is rarely seen in public and there are few confirmed photographs of him. The US government has placed a $7m (£4.3m) bounty on his head.
Meanwhile, one person quite happily confusing herself with someone else is the former Miss Slovenia Rebeka Dremelj.
Now a pop singer, she's posted a Facebook photograph which has been altered to make it look like she's with former Yugolsav leader Josip Broz Tito, to promote her latest record. The black and white photo has Dremelj's face superimposed over that of Tito's widow, Jovanka. The singer posted the image with text reading: "Today I got the first recording of my new song … very happy:))) It mentions a friend, who is here with me," referring to Marshal Tito, whose mother was Slovenian. Some may feel Dremelj's timing was unfortunate, given that Jovanka reportedly remains in a Belgrade hospital, recovering from a heart attack.
Use #NewsfromElsewhere to stay up-to-date with our reports via Twitter.