Jamaica: IT security 'using staplers'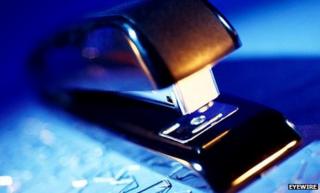 Call centres in Jamaica are stapling workers' pockets shut to prevent them stealing clients' data, it seems.
Reports suggest managers are so concerned about client privacy that some workers aren't given jobs without taking lie-detector tests. Company boss Davon Crump is quoted in the Jamaica Gleaner as saying firms use staplers to ensure employees can't sneak devices capable of downloading information, such as USB drives or mobile phones, into work. "Quite frankly it's done across the board," Crump reportedly told a cyber-security conference, before adding that such measures were necessary to make foreign companies confident about operating in Jamaica.
Umbrella group the Business Process Industry Association of Jamaica distanced itself from his comments, telling the paper that security was ensured through thorough background checks - including polygraph tests - electronic surveillance and data access controls. Telephone scams are big business on the island, according to the Jamaica Observer, which says fraudsters make about 30,000 calls a day to the US. It quotes a US government agency as estimating Americans had been conned out of $82m by people claiming to have information about lottery winnings.
Use #NewsfromElsewhere to stay up-to-date with our reports via Twitter.