Iran: Facebook button 'may have been hijacked'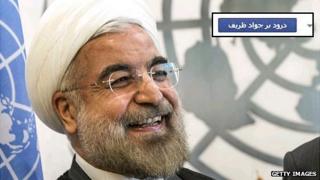 Facebook says the "post" button on its Persian site may have been hijacked to pay tribute to Iranian President Hassan Rouhani.
Reports suggest the word "befrest" - or "post" - was temporarily replaced with "Hail Dr Rouhani". This homage - along with a similar tweak hailing Iran's Foreign Minister Mohammad Javad Zarif - "did not last for more than a few hours" on Wednesday before being rectified, according to the Tazehnews website. But some social media users captured it on screengrabs. Facebook was unable to confirm the switch but admitted it was technically possible because of its crowd-sourcing translation method, which allows features to be renamed if enough users agree on the interpretation.
"The Persian language version of Facebook was translated by the user community and translations for buttons are submitted by people and voted on by others," a spokesman said. "As a result, on rare occasions, we may find translations to be inaccurate and when we do, we fix them." It came on the day Rouhani was tweeting the Twitter chairman Jack Dorsey, fuelling hope of relaxed internet controls in Iran. Citizens are banned from sites such as Facebook, Twitter and YouTube, although many bypass restrictions using proxy servers.
Use #NewsfromElsewhere to stay up-to-date with our reports via Twitter.