Russia: 'Visit our gay bars' - speaker tells Europe's MPs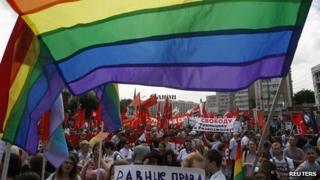 Russia's parliamentary speaker invited European MPs to sample Moscow's gay scene when they questioned him on homosexual rights, it's reported.
Recent months have seen protests, "kiss-in" rallies and celebrities calling for a boycott of next year's Winter Olympics in Sochi, after Russia's parliament - the Duma - unanimously banned the promotion of gay lifestyles to minors. But Speaker Sergei Naryshkin told the Parliamentary Assembly of the Council of Europe in Strasbourg: "I've not been to the many so-called gay clubs in Moscow and other cities in Russia, but witnesses say they're very pleasant and there's a good time to be had."
State broadcaster Rossiya TV showed him earning the applause of some MPs by telling them: "If anyone wants to check this out I'd be delighted to invite you to Moscow. Sadly I can't join you at a club, but I'll definitely see you're alright." Naryshkin insists that "people of non-traditional sexual orientations" flourish in the arts and business and enjoy equal civil rights. International gay rights watchdog Ilga-Europe might disagree. Even before the gay propaganda law was passed, it reported that - of 49 countries it rated in Europe - Russia was the hardest for a gay person to live.
Use #NewsfromElsewhere to stay up-to-date with our reports via Twitter.