Germany: Oktoberfest 'reaches out to vegans'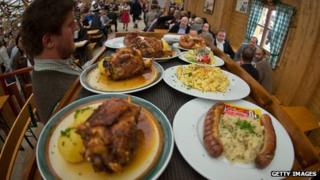 Munich's Oktoberfest - almost as famed for its sausage and roast chicken as for its beer - is reaching out to vegans, it seems.
Half a million chickens, 116 oxen and 115,000 sausages disappeared down visitors' grateful gullets last year, but this time around the Herzkasperl beer tent is leading the vegan way by serving egg and cheese Kaesespaetzle noodles - without eggs or cheese, reports Der Spiegel magazine. Meanwhile, it reports, the famed Fisch-Baeda seafood tent is even offering vegan wine made without animal protein.
Although the vast majority of patrons choose beer and sausage, Der Spiegel wonders whether vegans could blaze a dietary trail for gluten-free beer. This is made without barley, and therefore violates Bavaria's hallowed brewing rules. Herzkasperl's Martin Jonas tells the magazine: "Forty years ago, traditional Bavarians would have trembled at the prospect of open homosexuality at Oktoberfest, and now we celebrate 'Gay Sunday' here every year. Gluten-free beer could be next."
Use #NewsfromElsewhere to stay up-to-date with our reports via Twitter.