China: Weird schools rules under fire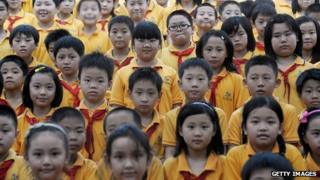 Weird school rules - such as bans on eating watermelons in dorms, or on boys standing less than 50cm (20in) from girls - are coming under fire in China.
Newspapers are highlighting them in an official campaign to lift petty restrictions on students. Most focus on regulations hindering contact between the sexes, such as the half-metre rule at a Hangzhou secondary. In the case of Chunhui High School in Wenzhou, the ban on "maintaining very close relationships" applies to students of the same sex, Hong Kong's Pheonix TV reports. Headmaster Sulian Fu told the Wenzhou City News it prevents "harmful school romances", but the heavyweight China Youth Daily chides him that it "stunts the normal friendships so important for personal development".
In contrast, a school in Henan province forces children to mix together in groups of at least five. Education specialist Chu Zhaohui reportedly calls this a throwback to the collectivist Cultural Revolution, but Professor Yang Dongping cautions against overreacting to local exceptions. "These rules are bizarre, and I find them puzzling. But they do not represent the mainstream," he told the South China Morning Post. Teachers don't escape the regulations either, it seems, with some schools reportedly banning them from wearing black stockings.
Use #NewsfromElsewhere to stay up-to-date with our reports via Twitter.