Uganda: Army 'spent $780 on saucepan'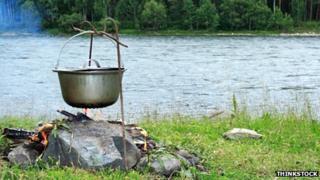 Uganda's military reportedly forked out the equivalent of $780 (£490) - more than an average Ugandan earns in a year - on a saucepan.
The pan should have cost less than $60, while another 7.7m shillings - or $3,000 - went on a $400 gas cooker, the Daily Monitor newspaper claims. It says the figures have "astonished" MPs probing suspected corruption in the armed forces. Defence Ministry officials are reported to have told investigators that the prices were so high because of a "war situation", apparently referring to a brutal rebellion by the cult-like Lord's Resistance Army in the north.
But, the paper says, legislators remained incredulous and are also probing suspicious land deals which saw army units leave strategic locations. They're suspected of having cost taxpayers hundreds of thousands of dollars. Corruption remains endemic in Uganda, according to Transparency International, which ranks the country among the world's most corrupt states. It's also among the poorest, with annual per capita income of a little more than $500, according to the World Bank.
Use #NewsfromElsewhere to stay up-to-date with our reports via Twitter.