Mexico: Drugs disguised 'as bus passengers'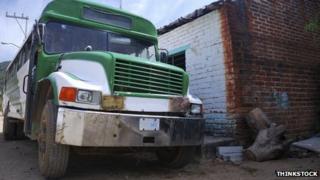 Mexican drug traffickers tried to smuggle marijuana into the USA by disguising it as passengers on a bus, reports say.
Two tonnes of the drug was wrapped in plastic, in a shape designed to look like people, then placed on the seats. But it was discovered on board a US-bound bus stopped by security agents in the Mexican state of Baja California, according to the Lindero Norte news blog. The bus had apparently been escorted by a Federal Police patrol which, its driver claimed, had helped him get through several military and police checkpoints. But the federal policemen insisted they had nothing to do with trafficking, saying they were on a "surveillance mission", reports El Universal.
Meanwhile, news site El Vigia reports the local police chief denying he's under investigation and saying there's been some "confusion". Powerful cartels control the trafficking of drugs from South America to the US, a business that is worth an estimated $13bn (£9bn) a year. More than 47,500 people have died as a result of Mexico's drug-related violence since December 2006.
Use #NewsfromElsewhere to stay up-to-date with our reports via Twitter.