Algeria: Islamists take pliers to 'padlocks of love'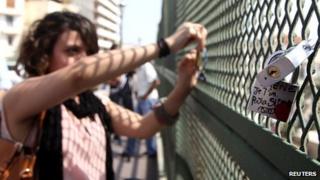 Hardline Islamists are hijacking an attempt to turn a notorious suicide spot in the Algerian capital into a symbol of peace and love, it's reported.
Telemly Bridge had been known as the "bridge of suicides", after scores of people jumped off it to their death in recent years. Earlier this month, L'Expression newspaper reported how local activists decided to transform it into a "bridge of love", a beacon of peace and hope for a nation scarred by years of civil war in the 1990s. Inspired by the Pont des Arts in Paris, they called on Algerians to attach padlocks bearing the names of loved ones to a fence on the bridge as a symbol of love.
The initiative was an instant hit among young people, and L'Expression said even the mayor's office hung a padlock there. But it seems the Western-influenced initiative attracted many young lovers, angering ultra-conservative Salafist Muslims. Armed with pliers, they cut the padlocks at night, unfurling Koranic inscriptions on the bridge instead, according to the US-sponsored Magharebia website, which focuses on north Africa. A YouTube clip showed one cleric telling a TV reporter: "This is one of the silliest of customs. They've changed the bridge from bad into something even worse."
Use #NewsfromElsewhere to stay up-to-date with our reports via Twitter.