South Korea: Live taxi broadcasts 'gained a million viewers'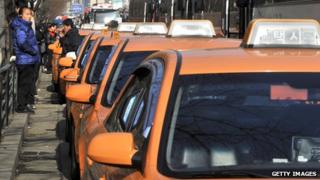 A Seoul taxi driver who secretly filmed and broadcast his chatter with passengers gained a million online viewers, it's reported.
But he's had his licence revoked for six months and narrowly avoided going to jail after being sued for breaching privacy laws, reports the Korea Times. It says the driver, identified as Lim, streamed live footage from his cab, orchestrating the "show" by asking passengers questions, listening to their stories and even singing for their pleasure - all without informing them they were live on the air. His broadcasts really took off when he gave a popular South Korean singer and actress known as IU a lift in 2010 and encouraged her to sing.
However, it seems they came to an abrupt halt after three years, when two of Lim's past customers sued him for violating South Korea's communication privacy protection act. One reportedly said they'd been asked personal questions and only discovered they'd been filmed on getting out of the cab. A court in the capital handed him a six-month suspended jail term for broadcasting private conversations without the customers' prior consent.
Use #NewsfromElsewhere to stay up-to-date with our reports via Twitter.