South Sudan: Women distil alcohol 'to pay school fees'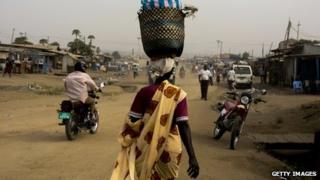 Distilling moonshine is the only means of survival for many women in impoverished South Sudan's Unity State, it's claimed.
The economy is stagnant and jobs are scarce, while recent floods have exacerbated the situation by blocking roads. The problem is particularly acute for women who lost husbands in Sudan's long-running civil war, which reached an uneasy truce in the last decade. "Alcohol is my second husband", one mother-of-three who's been turning out hooch for 14 years to pay for schooling told the Sudan Tribune. There's only one brewery in South Sudan, mass-producing White Bull lager, but United Nations-backed Radio Miraya suggests many drinkers prefer the women's local brews such as siko, a sugarcane gin.
A psychiatric doctor tells the station people drink out of frustration at the lack of work, unaware they're "sliding into a dangerous cycle". Siko was banned in neighbouring Sudan earlier this year in response to problem drinkers becoming violent, the German NGO-funded The Niles website reports. But it says this threatens the livelihoods of many families. South Sudan gained independence in 2011 but has been unable to take advantage of its sizeable oil reserves because its northern neighbour still controls refineries and export pipelines.
Use #NewsfromElsewhere to stay up-to-date with our reports via Twitter.