North Korea: Panic over as 'chocolate snacks are back'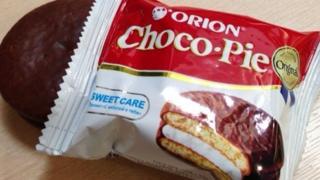 Some North Koreans have been shelling out up to a fifth of the average monthly income for a single chocolate snack, it's claimed.
Supplies of Choco Pie, a Wagon Wheel-style chocolate, biscuit and marshmallow snack, dried up earlier this year when Pyongyang closed Kaesong Industrial Complex - a collaborative venture between the two nations - amid heightened tensions in the region. The industrial zone's 35,000 workers had been receiving Choco Pies in their lunchboxes from their South Korean employers, and many sold them on the black market as a means of supplementing their income. Once supplies were disrupted, they ended up changing hands for 3,000 ($23 or £14), according to the Daily NK website. There are no accurate average wage statistics for North Korea but analysts estimate per capita income at between $1,000 and $2,000 per year.
Pyongyang seemingly launched a copycat version but people reportedly complained they were too sweet. With Kaesong's recent re-opening, the snack's black market value plummeted, and they're now reportedly selling for 500 won (about $4; £2.50). However, it's not all good news. Southern employers, citing the losses they've taken due to the plant's enforced closure, have taken the opportunity to slash the number of Choco Pies they hand out, Daily NK reports.
Use #NewsfromElsewhere to stay up-to-date with our reports via Twitter.