Taiwan: Fisherman 'kept dolphin meat in fridge'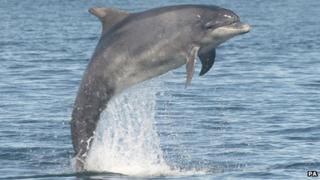 A Taiwanese fisherman was storing nearly a tonne of dolphin meat in his fridge, according to reports.
The man - named as Huang - was apparently tempted by the sums available for black-market dolphin sausage during the traditional Chinese mid-autumn festival, and had begun selling to restaurants in the west coast Yunlin County two years ago. But coastguards placed him under surveillance for four months before seizing the illegal 820kg haul of bottlenose and Risso's dolphin, along with banned shark and seal meat, the Taipei Times reports.
Under Taiwanese law, dolphin meat traders face six months to five years in jail, or fines of $10,000 to $50,000 (£6,250 to £31,250). The paper says Huang told authorities he bought the meat from a supplier in northern Taiwan for about $5 a half-kilo and sold it on for US$16. Prosecutors reportedly say Huang and his wife rented a warehouse to freeze and store the meat, and delivered it around Yunlin County in a lorry with a freezer unit.
Use #NewsfromElsewhere to stay up-to-date with our reports via Twitter.