Belarus: Ruler 'invited to buy' teddy protest plane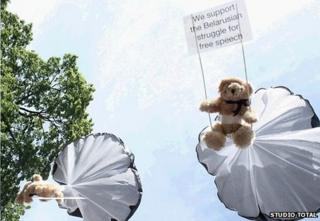 A plane used to parachute hundreds of teddy bears into Belarus in protest at the man dubbed "Europe's last dictator" has gone up for sale - and he's apparently been offered the chance to buy it.
Authoritarian President Alexander Lukashenko was the target of the July 2012 stunt by Swedish marketing executive Tomas Mazetti and a colleague. They flew over Belarus, dropping cuddly toys with pro-democracy slogans over the town of Ivenets and a suburb of the capital Minsk, before flying back unmolested to neighbouring Lithuania. The incident cost the heads of air defence and the border guards their jobs and led to the expulsion of the Swedish ambassador.
And, after putting the 1968 three-seater Jodel plane up for sale on internet auction site eBay, Mazetti is reported by the Charter97 opposition website as having written an open letter, asking Lukashenko: "Why not buy our plane yourself? You could lend it to your military. Let them train your billion dollar air defence in discovering small wooden planes." By Friday, bidding for the plane had reached $11,500 (£7,150) and Mazetti claims the proceeds will go to "the struggle for democracy in Belarus", although the reserve price has not yet been met.
Use #NewsfromElsewhere to stay up-to-date with our reports via Twitter.