Ukraine: Priests 'bless tablet PC and rifle'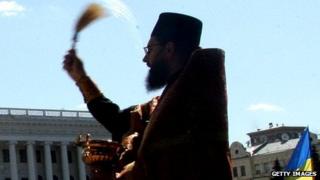 Priests in Ukraine are apparently not averse to blessing unusual objects such as a traffic police baton, tablet computer or replica rifle.
Local TV channel 1+1 sent an undercover reporter to ask three different priests to consecrate the items. And all three were filmed with concealed cameras performing the ritual blessings with prayer-book and holy water, although the blessing over the rifle was conducted through the closed boot of a car. The priests accepted a modest fee for their trouble, viewers are told.
Religious affairs analyst Lyudmyla Filipchuk says Orthodox Christianity does not prohibit the blessing of such objects, so the priests did nothing wrong, but adds: "If a priest has a profound understanding of his faith and cherishes his authority, he won't go about blessing random objects". Meanwhile, Radomyshl Brewery proudly proclaims that its Refectory Beer is "brewed with holy water" since Patriarch Filaret, the head of one of Ukraine's two competing Orthodox hierarchies, reportedly blessed the production line. Apparently, he did it on condition that some profits go to maintain a monastery on Mount Athos in Greece.
Use #NewsfromElsewhere to stay up-to-date with our reports via Twitter.