Japan: US Marines 'squashing endangered species'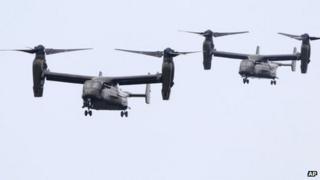 US Marines have been running over rare animals on roads around Japanese training grounds, it's claimed.
A report to defence officials in Okinawa highlights problems in the Yanbaru forest area, where a helipad's been constructed for aircraft including the Marine Corps' Ospreys, according to Kyodo news agency. It suggests three spot inspections in the last 18 months found that an Okinawa tree lizard - which is on the Japanese Environment Ministry's "Red List" - and 15 sword-tailed newts had come to grief on the roads surrounding the pad.
The report quotes a spokesman for the bureau, which apparently plans another five helipads in the area, as saying it was difficult to know whether US military or Japanese construction vehicles had caused the damage. Last month, the Marine Corps Times described how endangered species were thriving at many US bases, with spending on their protection increasing by nearly 45% in a decade. Last year's arrival of Osprey aircraft in Okinawa was greeted with protests from some residents, who raised fears over the safety of the hybrid craft, which has a tilting rotor allowing it to take off like a helicopter.
Use #NewsfromElsewhere to stay up-to-date with our reports via Twitter.