Iranian TV channel fights extremism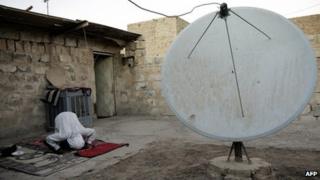 Iran has reportedly launched a new satellite TV channel to target religious fundamentalism.
The Al-Ahwaz channel is aimed at the Sunni minority in Iran's Khuzestan Province. There are 1.5 million Arabs in Khuzestan, the vast majority of whom are Shia.
The new station will "spread the teachings of the Prophet Muhammad and his household and confront the sedition of Wahhabis", says Ayatollah Seyyed Jaza'eri, the Iranian Supreme Leader's local representative. But overt symbols of Iranian nationalism will be avoided, as these often provoke complaints of "Persian domination" from Arab viewers.
Wahhabi is a conservative branch of Sunni Islam, dominant in Saudi Arabia.
Use #NewsfromElsewhere to stay up-to-date with our reports via Twitter.