Belarus: I taught champ tennis, says president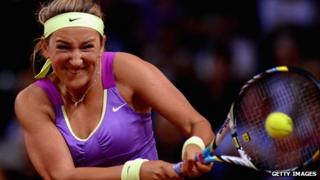 Alexander Lukashenko, the president of Belarus, has claimed that he personally put the country's tennis star, Victoria Azarenka, on the road to glory.
Speaking on a visit to a tennis centre in Minsk, the president recalled how the then eight-year-old Azarenka watched him practise his shots when they trained on the same court. According to Belarusian television, the future Grand Slam winner was very fond of him as a player, and nagged her coach to "show me the president play tennis". Sporting a tracksuit in the colours of the national flag, Lukashenko said: "Azarenka and I started playing tennis together... She was this little. But she learnt to play."
Lukashenko is no stranger to unusual public announcements. In July, he responded to photographs of a combat gear-clad Vladimir Putin holding a 46-pound pike by saying the he had recently caught a catfish weighing 126 pounds from a river in the south of the country. Unfortunately for Mr Lukashenko, there was no photographic evidence to back up his fisherman's tale.
Use #NewsfromElsewhere to stay up-to-date with our reports via Twitter.