Belarus: Battle of the films over disputed election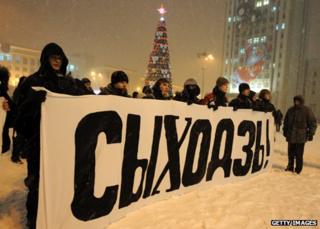 A row has broken out between filmmakers in Belarus over a film about the the disputed presidential election of 2010, and the protests which followed.
Andrei Kureichik says Sergei Zhdanovich's Nonstop Media company won a culture ministry competition to make the film because it will "give the official line" on the election. President Alexander Lukashenko was returned for a fourth term in polls many claim were rigged. Hundreds of people were arrested after protesting against the result - and there were many allegations of police brutality.
In the Charter97 website Kureichik claims that Zhdanovich's film Abel will feature a Hollywood star as a movie mogul who arrives in Belarus and sees "the truth" about the protests. He says the government plans Abel as a reply to a pro-opposition film about 2010 called Viva Belarus.
Zhdanovich himself says he's bemused by the allegations. The film will delicately interweave the Cain and Abel story with modern Belarusian history, he tells the TUT.BY news portal, with "only a fragment" about 2010.
"Andrei Kureichik is employing political PR for whatever goal," the producer says, adding that the film "won't judge and won't analyse events". TUT.BY says the two cineastes fell out last year while working on the popular television series Above The Sky.
Use #NewsfromElsewhere to stay up-to-date with our reports via Twitter.