China: Too much for teachers?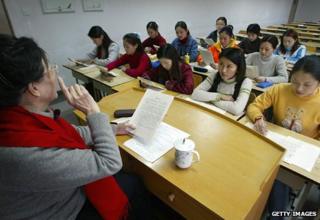 It's Teachers' Day in China - officially an occasion to honour the country's educators, but the Chinese press have been asking if it's now just an opportunity for pushy parents to try to bribe their children's teachers.
A survey published in China's Beijing News shows that nearly 60% of parents feel obliged to give gifts to teachers to ensure that they award extra attention or better grades to their children. Some parents will even fork out up to 1,000 yuan ($163; £104) for pricey gift vouchers and petrol vouchers, it's been reported.
According to the state-run China Daily, the good intentions behind the day are being sullied by gifts which are officially forbidden, but apparently widespread.
One parent tells the paper she feel there are unspoken rules which mean pupils will lose out if they don't send a good present: "I'm worried that if I do not send a gift, my daughter will perhaps suffer unjust treatment by her teacher."
Meanwhile, a teacher says she condemns the practice, but fears parents will think she is looking down on them if she declines presents. Du Jinxia says, "In my eyes, those vulgar gift cards are no match for greeting cards made by the students themselves. I feel delighted when I receive them."
Use #NewsfromElsewhere to stay up-to-date with our reports via Twitter.