Nigeria: Scores arrested in 'one house, one toilet' crackdown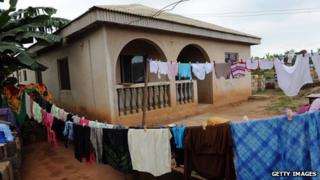 As many as 70 landlords have reportedly been arrested in the western Nigerian state of Ekiti for violating the government's "one house, one toilet" policy.
They are accused of violating legislation which says that each rented house must come with a toilet. Speaking after the arrests, officials insisted that landlords found guilty of failing to provide adequate sanitation would be dealt with severely.
"They think we are not serious about this, and so they must pay dearly for this until they learn to comply," said the head of the local government sanitation agency.
According to the World Bank's Water and Sanitation Programme, Nigeria loses an equivalent of $3bn annually as some 32 million of its citizens have no access to a latrine, while a further 70 million Nigerians use unsanitary or shared latrines.
Use #NewsfromElsewhere to stay up-to-date with our reports via Twitter.