Kazakhstan: The overly loved mermaid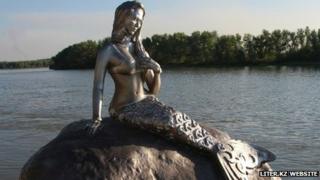 A newly-unveiled statue of a mermaid in Kazakhstan has apparently become a victim of her own popularity.
Even though it's made of fibre-reinforced concrete, the statue in the northern Kazakh city of Pavlodar has been taken down for repairs after only two weeks on display. The mermaid suffered a broken finger and a damaged tail, after falling victim to "too much pressure" from adoring fans who like touching her, according to Today.kz.
She was particularly popular with newly-weds who insisted on having themselves photographed in front of the statue. This appears to be a light-hearted continuation of a decades-old Soviet tradition, where statues of Lenin were the focal point of many wedding ceremonies.
Local fishermen have been upset by the statue's removal. They believe that the mermaid "mystically attracted" shoals of fish.
Even though the Kazakh mermaid bears a resemblance to her more famous sister in Copenhagen, there are differences - she has Asian features, her tail is adorned with a traditional Kazakh pattern and she wears a bra.
Use #NewsfromElsewhere to stay up-to-date with our reports via Twitter.