Kazakhstan: Wolf v ex-police officer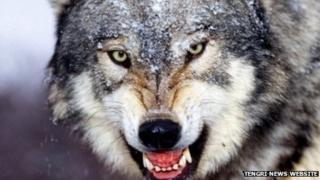 Wolves rarely attack people, but one tried its luck on a passer-by near the village of Zhetybai in the remote Kazakh steppes.
Unluckily for the wolf, burly retired policeman Daulet Tuyeshiyev was more than a match for it. "I was having a look around beside my car when some beast attacked me. At first I thought it was a dog, then I realised I was wrestling with a wolf," he told Lada newspaper. The powerful animal bit him repeatedly on the back, arms and legs, but Tuyeshiyev managed to strangle it with his bare hands.
Villagers say they burned the wolf while Daulet made his own way to hospital, but not before photographing the body. Elders are surprised at the attack on a human, but recall that local huntsman Aldaberdy Akshabayev has stopped his regular wolf culls since the council cut off funding. Mangistau region police warn that the wolves are now becoming bolder as they compete for food.
Use #NewsfromElsewhere to stay up-to-date with our reports via Twitter.