Croatia: Baby born on board army helicopter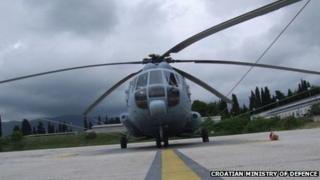 When Ivana Foretic went into labour in a small village on the Croatian island of Korcula, an army helicopter crew complete with doctor was ready to fly her to a mainland hospital.
What they were not ready for was Mrs Foretic giving birth to her baby boy on board the helicopter as it crossed the straits.
Dr Nikica Tole delivered the baby a few minutes before the helicopter was due to land in the city of Split. "My heart beat like crazy… but, with the help of soldiers who served as midwives, everything went smoothly. I looked at the mother after she delivered and saw her happy face and her thumb up. The feeling could not be put into words," he told reporters.
Pilot Ivica Sunic said the crew was moved to tears. "I flew this helicopter throughout the whole war, but never before I have I felt like that. When the boy cried and we realised that everything had gone well, nobody held back. We were more than happy," he said.
Mother and baby Franko are doing well, the 24sata news site reports.
Use #NewsfromElsewhere to stay up-to-date with our reports via Twitter.