Yemen: Shirts shed in street protests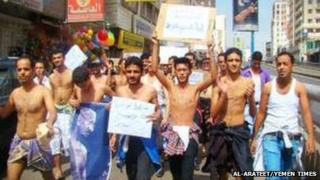 Groups of young men marked the end of the Muslim fasting month of Ramadan by parading shirtless through the streets of the Yemeni capital, Sanaa.
The 30-odd members of Al-Arateet - which means "Almost Naked" - want action on unemployment and lack of political accountability in the country, which has been going through a transition from decades of one-man rule.
Al-Arateet are trying to revive the mass protests that ousted President Ali Abdullah Saleh in 2011, and some marchers draped their bodies in revolutionary slogans as they chanted "I am jobless! I am almost naked!"
Men and women usually cover up in conservative Yemen, so this liberal-socialist group has grabbed plenty of public attention - not all of it positive. The Yemen Times newspaper says onlookers reacted with a mixture of "admiration, bewilderment and frequently disgust" to some of their appearances.
Co-founder Hakim Al-Bukari says the group had to call off some marches because of public hostility, and may consider changing its name: "But we will not change our way of protesting".
He says the group has no plans to involve women in their protests.
Use #NewsfromElsewhere to stay up-to-date with our reports via Twitter.