Altered Images: President's wife denies doctoring image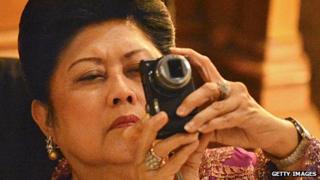 Indonesia's first lady became embroiled in a row with fellow Instagram users after they accused her of "touching up" a photo of her granddaughter.
It ended with the State Palace announcing that President Susilo Bambang Yudhoyono's wife Ani was responsible for managing her own account on the photo-sharing network, and that all the photos she uploaded were her original works, reports the Jakarta Post.
The photo in question was of Yudhoyono's granddaughter Almira Tunggadewi - known as Aira - in front of a parade at the National Monument. It seems many Instagram users became suspicious about rough edges around Aira's hair, with some suggesting they were the result of the photo being doctored. One reportedly asked: Ma'am, this is not Photoshopped is it?" and earned the reply: "I cropped the photo, and if Aira looks huge, it is because I was standing close to her." After some debate, it seems the first lady became fed-up and told her critics: "Whether it was edited or not, you decide. I just speak truthfully and honestly."
Presidential spokesman Julian Aldrin Pasha was keen to draw a line under the affair, telling reporters: "We no longer need debate it. Everybody has the right to comment. Don't make such a big deal about it." Yudhoyono's not the first member of the family to experience social media frustration. Her husband has launched an intensive social media campaign in recent months, developing a YouTube channel, gaining more than 3.2m Twitter followers and approaching 600,000 Facebook likes. However, just a day after launching his Facebook page, he complained about being "bullied".