Qatar: Milkman and farmer - jobs 'on blanket driving ban list'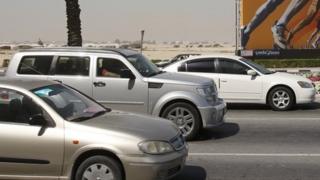 All milkmen, farmers and even "tyre workers" are banned from driving in Qatar, it turns out.
Their professions are reportedly among 162 excluded from applying for a licence, listed recently by the Gulf state's traffic department. Other "low-income" workers subject to the blanket ban include butchers, cooks, upholstery workers, welders, falafel makers and grocery vendors, according to the Gulf Times. It says the list's publication, on 1 August, actually led to an increase in applications because it clarified an earlier document, which had used broader categories to exclude people.
The English-language daily quotes a driving school source as saying they'll only accept applicants after checking the profession listed on their national ID. Apparently, flight attendants are now deemed eligible, along with household service workers under Qatari sponsorship. Despite the restrictions, traffic-related fatalities - mostly involving expats - account for about 18% of all deaths in the country, compared to about 1.5% in the US, figures from Northwestern University in Qatar suggest. Most of those killed are expats. Foreign nationals can usually use international permits to drive in Qatar, while expats from many Western countries can exchange their licences.
Use #NewsfromElsewhere to stay up-to-date with our reports via Twitter.