West Bank: Girl, 16, 'made minister for a day'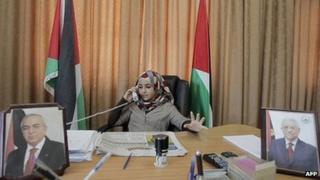 A Palestinian minister gave his job to a 16-year-old girl for the day, it's reported.
And Bashaer Othman used her position as minister of local administration in the Palestinian Authority government to lobby UN Secretary General Ban Ki-moon on local issues, reports the daily paper al-Quds. She was given the opportunity on her birthday by the ministry's head, Saed al-Kawni, and it seems he chose her because she'd already acted as mayor in her home municipality of Ellar for two months last year. " In these experiences she became the perfect example and model for young Palestinians," he reportedly said, adding that he wanted young people to play a greater role in professional life.
Othman, who already runs a forum aimed at empowering youngsters, told reporters she "continues to believe in the effective role of the youth and in the building of the Palestinian state". Her letter to the UN chief reportedly told him of the obstacles faced by Palestinians and asked him to put pressure on Israel to reverse a recent decision to close down a local refuse site.
Use #NewsfromElsewhere to stay up-to-date with our reports via Twitter.