Egypt: Chocolates feature military leader's image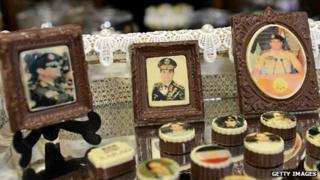 Chocolates featuring the image of the Egyptian defence minister who deposed the president have gone on sale in Cairo.
Bahyra Jalal is selling a range of treats featuring pictures of Gen Abdel Fattah al-Sisi - from large portrait-shaped bars to individual chocolates - to "show her support for the army", reports news site al-Watan. "I like al-Sisi very much and consider him a national symbol because he saved the country from the danger posed by the former regime of the deposed President Mohammed Morsi," the website quotes her as saying.
Correspondents describe al-Sisi as "very, very conscious about image control" and since Morsi's removal from power last month, his image has frequently featured as part of a rousing armed-forces music video broadcast on state TV. Khaled Fahmy, head of history at the American University of Cairo, told the BBC's Edward Stourton the general's "sex appeal" was helping him gain supporters. "Middle class and upper class women, [who are] increasingly important in the revolution find him younger, handsome, powerful, macho, in command," he adds.
Use #NewsfromElsewhere to stay up-to-date with our reports via Twitter.