Colombia: Women march against 'easy' stereotype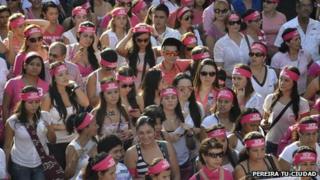 Hundreds of Colombian women have taken to the streets to protest against being portrayed as "easy", it's reported.
The ladies of Pereira are considered among the most beautiful in the land, according to El Tiempo. But, says US-based broadcaster ABC, the town's gangsters have a habit of parading women as though they're high-end escorts. This has led to the unflattering stereotype - and stock dirty jokes about women from the western town - that the 300 or so who marched through the streets are keen to change.
The women marched behind a banner reading: "Because I'm a professional, I'm a mother, I'm a worker, I'm a woman..." El Tiempo quotes one as saying: "I don't like our image among people from other cities and abroad. I'm a fighter, enterprising and industrious." It published a picture gallery of the women - said to be of all ages and social classes - wearing pink headbands reading "Soy Pereirana", meaning "I am from Pereira", while taking part in the march. Apparently, the event was such a success that the organisers want an annual Pereira Women's Day.
Use #NewsfromElsewhere to stay up-to-date with our reports via Twitter.