China: News site 'passes off Battlestar Galactica as aircraft carrier'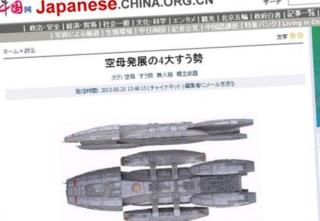 Design images of sci-fi favourite Battlestar Galactica were apparently used by a Chinese state website to illustrate an article about aircraft carriers.
The Japanese-language version of the official China Internet Information Centre used the image under the headline Four Major Trends in Aircraft Carrier Development and it was spotted by the Hong Kong-based South China Morning Post. The original article focuses on developments in carrier vessels' missile defence systems, stealth fighters, automated drones and electromagnetic catapults.
But readers questioned whether the graphics came from a video game or TV cartoons, before eventually tracing them to the visual effects studio responsible for visual effects in the hit TV show. Another image used by the Chinese site was apparently a concept design for a "Lilypad" floating city, created by Belgian architect Vincent Callebaut. The Morning Post points out it's not the first time state news outlets have used dubious images, with news agencies having run a story in March about a "secret" Japanese military helicopter which turned out to be digital art created in a Singapore animation studio.
Use #NewsfromElsewhere to stay up-to-date with our reports via Twitter.