China: Floods 'wash crocodiles loose' from farms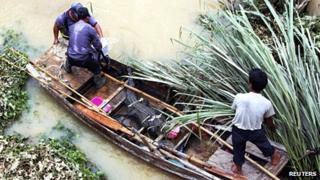 The hunt is on for about two dozen crocodiles washed free from a farm in China, it's reported.
Police and villagers were mobilised to search for the missing beasts, which escaped when floods prompted by heavy rain damaged their enclosure in Guangdong province last weekend, Xinhua news agency reports. It seems 27 had been captured by Thursday evening but the rest were unaccounted for. Farm workers reportedly say the reptiles will have fled into flooded rivers and swamped farms. "Runaway crocodiles are very dangerous. We are very nervous that they may hurt people," farm general manager Zhou Minghui told Xinhua.
According to the Australia-based conservation organisation, the Crocodile Specialist Group, thousands of juvenile Siamese crocodiles are imported to China from Thailand, Vietnam and Cambodia for farming each year. The 11-hectare farm in question apparently raises 11,000 crocodiles per year, producing meat products which exponents of traditional medicine believe have health benefits. But it's by no means the first to lose some of its stock. In June, it was reported that hundreds escaped from a farm in Gaozhou City during floods and, earlier this month, two Nile crocodiles were said to have been set loose when a Jiangsu farm was partially demolished.
Use #NewsfromElsewhere to stay up-to-date with our reports via Twitter.