Jamaica: US deportees with 'no earthly ties' to island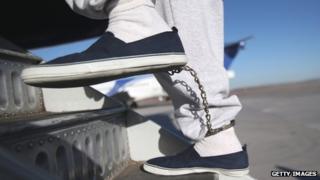 Many of the 75 criminals the US deports to Jamaica each month have "no earthly ties" to the Caribbean nation, it's reported.
Its ambassador in Washington, Stephen Vascianne, told a gathering to celebrate the 51st anniversary of the island's independence in New York that there were problems with the American deportation system, reports the Jamaica Observer. "[Deportees] may have come to the United States as children, lived their lives there and now they are required to fend for themselves in unfamiliar territory," he's quoted as saying. Arguing that the process may be counter-productive for both countries, entrenching people in criminality, Vascianne suggests the US could "give thought to more humane and sympathetic consideration for persons who are deported for minor offences".
More than 600,000 Jamaican-born people live in the US, according to the Washington-based Migration Information Source. Earlier this month, Jamaica said it hoped to expand its overseas employment programme to allow a 10 to 15% increase in the number of citizens eligible to work in Canada and the US, the Observer reported.
Use #NewsfromElsewhere to stay up-to-date with our reports via Twitter.