Russia: South Park spoof 'attacks opposition leader'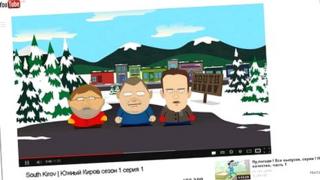 Russian opposition activist Aleksey Navalny appears to be the target of a spoof video based on the South Park cartoon.
Filled with foul and anti-Semitic language, the two-minute "South Kirov" clip has been viewed more than 400,000 times on YouTube in a little over a week. It shows an animated character resembling Navalny attempting to convince local officials to build a lumber mill in Kirov, north-east of Moscow. The cartoon official, a pastiche of Kirov governor Nikita Belykh, launches into a diatribe, saying: "Are you a Jew?... We don't hang out with the likes of you." Navalny, a Russian Orthodox Christian of Ukrainian descent, was recently convicted of embezzlement from a timber firm in what supporters say was a politically-motivated prosecution.
The clip ends with the cartoon activist kissing his business associate to avoid a prying police officer, leaving behind blue lip-stick marks - a colour associated with homosexuality in Russia. One Russian-language blogger says the video is an attempt by the Kremlin's PR machine to discredit the Moscow mayoral candidate ahead of September's election. However, according to the Gorod Kirov news site, the video's creators insist: "All the characters are fictional. Any coincidences are far-fetched."
Use #NewsfromElsewhere to stay up-to-date with our reports via Twitter.