Honduras: Thousands of 'phantom' police on payroll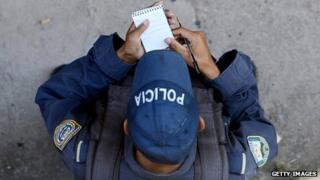 Honduras has been paying thousands of police officers who never actually turn up for work, it turns out.
Back in May, the Central American country's police force reported 14,472 officers on the payroll but Security Minister Arturo Corrales ordered a more detailed check after being able to account for fewer than 8,500 of them, reports the daily El Heraldo. It says the second census - in which staff went to check that individuals really existed - still left more than 3,400 "phantom" policemen unaccounted for. As a result, Corrales suspended the pay of 2,151 of them and wants the status of nearly 3,000 more clarified within a month, according to Proceso Digital website.
Corralo plans to spend the savings from halting payments to these "disappeared" officers, who've apparently made off with their police-issue firearms, on employing thousands more real police, it's reported. Corruption within the Honduran police has been rife, with many officers having been implicated in high-profile offences and 176 arrested in a purge on organised crime in 2011.