Russia: Flood 'raises anthrax fears' at burial site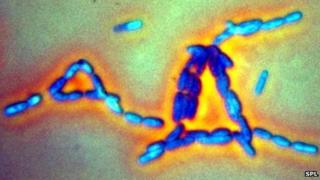 Flooding at a decades-old animal burial site in Russia has raised fears of anthrax infection, it's reported.
Infected livestock was buried near the village of Leninskoye in 1922, 1955 and 1980 but a recent deluge that left the site 80cm - more than 2.5ft - under water is troubling local authorities, reports news agency Interfax. There's a river a couple of miles away and people living in the area drink water from wells, it seems. Veterinary officials are testing water and soil samples, while all cattle in the area are being inoculated, the report says.
Scientist Louis Pasteur developed the first effective vaccine for anthrax - which can cause skin lesions and fever, and is deadly if untreated - in 1881. But its endospores can survive in soil for years, enduring extreme conditions. In 2009, exploratory work for London's new cross-city rail scheme was halted for tests on uncovered human bone fragments amid fears anthrax remained present in an area where 682 victims were buried in 1520. Russia's latest scare follows the infection of two farm workers in the southern Stavropol region earlier this month. On that occasion, an unregistered sheep was reported to have been the source.
Use #NewsfromElsewhere to stay up-to-date with our reports via Twitter.