China: 'Pickle index' tracks migrant workers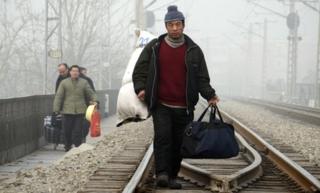 The Chinese government seemingly has a new way of tracking migrant workers - by using pickled vegetables.
Economic strategists are monitoring the sales of zha cai - a kind of pickled mustard tuber which is a workers' staple - to find out exactly how many people are moving between provinces, reports suggest. The authorities have been tracking sales spikes around the country to determine employment hotspots, says Hong Kong's South China Morning Post. Sales of the spicy vegetable have apparently slumped over recent years in China's industrial southern cities, while consumption has steadily increased in other regions, suggesting that migrant workers are returning to their home provinces.
The ebb and flow of pickle sales reflects the fact that urbanization and economic growth may be slowing, it's suggested. As many as one-in-five Chinese are migrant workers, according to Beijing's Office of National Statistics, often moving from agricultural areas to economic heartlands to make a living. Mass movement of people is such a phenomenon that more than 100 million people travel home during China's so-called "Golden Week" public holidays.
Use #NewsfromElsewhere to stay up-to-date with our reports via Twitter.