China: Property debts 'repaid with alcohol'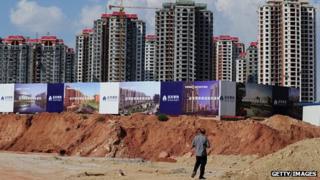 People in a debt-ridden Inner Mongolian city are said to be paying off creditors with strong booze.
Ordos was dubbed "the biggest ghost town in China" thanks to its many imposing apartment blocks which remain unsold and empty. They were built to accommodate hundreds of thousands of people, as local authorities - made rich by the region's coal production - sought to cash in on China's construction boom. Many citizens who'd speculated on the property market were left with massive debts. But some are finding innovative ways of getting back into the black, according to Taiwan's Want China Times.
It spoke to one businessman who claimed to have repaid 2m yuan (£210,000) in debts using the Chinese spirit baijiu, which he'd got hold of by bartering a car with a liquor factory manager in Sichuan province. Creditors were initially reluctant to accept alcohol as payment, until they found they could use it to repay their own debts, the paper suggests. It says distillers have also been cashing in by offering baijiu in exchange for property, which is then converted into cash by selling them at half-price.
Use #NewsfromElsewhere to stay up-to-date with our reports via Twitter.