Uzbekistan: Buyers stampede for chance to buy cars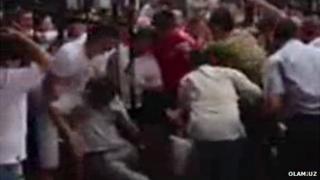 Would-be motorists in Uzbekistan have been filmed stampeding to put a down payment on a new Chevrolet.
A video uploaded by regional news website Olam.uz shows people falling over each other as they rush through the gates at a car sales centre in the Uzbek capital Tashkent. According to reports, they're trying to get hold of a contract to buy a vehicle that won't be delivered for another six months, for which they have to pay an 85% deposit and hope that the purchase price doesn't increase in the meantime. The buyers were accused elsewhere of losing their dignity, dismissed as people "dying for metal".
Even Gulnara Karimova, eldest daughter of the country's authoritarian president Islam Karimov, thought the scenes were "chaos", telling her Twitter followers that car prices in Uzbekistan are "unrealistic". The buyers were rushing to get hold of one of around 250,000 Chevrolet cars which are built each year in a joint venture between America's General Motors and the Uzbek motor company UzAvtosanoat.
Use #NewsfromElsewhere to stay up-to-date with our reports via Twitter.