China: Pharmacies turn their back on "brutal" bear bile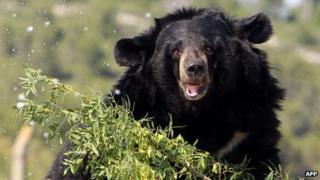 Chinese consumers have begun to turn against the use of bear bile in traditional medicinal products.
According to the China Daily newspaper, more than 150 drug stores have announced that they're no longer going to stock traditional Chinese medicines which use bear bile, as the extraction process is painful to the animals and often leads to fatal illnesses. One pharmacy chain said it acted after video footage showing the extraction of bile caused uproar on social media, leading to a drop in sales. "We found that there is a shared sympathy for the bears, and most of the customers agree too," pharmacy chain manager Zhong Yuanwei said in response to a campaign launched by an animal charity.
China's state news agency Xinhua says that medical practitioners, including many doctors that practice traditional Chinese medicine, have doubts over the safety of bear bile, which is used to treat eye and liver problems. Last year, one bear bile company scrapped its stockmarket launch over a wave of condemnation against the practice.
Use #NewsfromElsewhere to stay up-to-date with our reports via Twitter.