India: Strikes brew trouble for tea exporters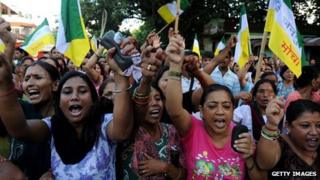 Separatist action in West Bengal could mean people elsewhere are deprived of their afternoon cuppa, reports suggest.
Tea aficionados with a preference for Darjeeling might find supplies disrupted as a result of ongoing protests in favour of the creation of a state of Gorkhaland. Demonstrators have refused to allow the dispatch of tea since last Friday, and exporters fear it may result in the cancellation of orders from across the world, according to the Hindustan Times. It says tea gardens will be unable to pay wages and be forced to stop production if the agitation continues.
About 70% of the pickings are said to be shipped abroad. The strike has apparently cost the industry £1.5m already, with bosses braced to lose a further £200,000 per day, while wholesale prices are expected to rise. The Gorkha Janamukti Morcha party is spearheading the protests for a separate state for Nepali-speaking Gorkhas and is demanding it include the hill district of Darjeeling. Campaigners say an autonomy arrangement agreed in 1988 is not working and have resumed the separatist movement that began in the early 1980s.
Use #NewsfromElsewhere to stay up-to-date with our reports via Twitter.