Egypt: Concern at 'child martyr' symbolism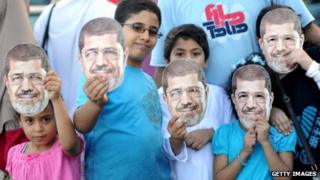 The presence of children at Egypt's political protests is causing concern, with some youngsters photographed in burial shrouds and claims that others have been "bussed in" from orphanages.
With the Muslim Brotherhood's Ahrar 25 TV today marking Eid - the end of the fasting month of Ramadan - the focus is on a sit-in outside the Rabaa al-Adawiya mosque, in protest at the ousting of President Mohammed Morsi in July. It featured a five-year-old girl addressing the crowd. "God accept our martyrs ... and make us follow them," she said from the platform. Shortly afterwards, children wearing blouses in the colours of the Egyptian flag sang national songs, while pictures showed children playing on giant inflatables or holding balloons.
The celebrations come days after the Brotherhood denied using orphans for political gain. Egypt's state news agency Mena had reported that police seized around 155 children being carried in nine buses en route to a Rabaa al-Adawiya - later the scene of clashes between protesters and locals. The children were said to have been accompanied by a teacher belonging to the Brotherhood. However, the Brotherhood denied the children were bound for the protest, saying it was continuing a custom of gathering needy youngsters to buy new clothes for Eid.
Children have been a common sight at protests since the January 2011 revolution, which removed Hosni Mubarak from power. However, their presentation as potential martyrs has led to unease at home and abroad. Last week, Unicef called on all political groups to avoid exploiting children for political ends. "Disturbing images of children taken during street protests indicate that, on some occasions, children have been deliberately used and put at risk as potential witnesses to or victims of violence," it said.
A day earlier, Egyptian media had shown pictures of children at a Brotherhood protest, wearing white burial shrouds and carrying banners with martyrdom slogans. One, published on the al-Bawabh news site, featured a child wearing a white T-shirt with "I am Hamzah; ready to be a martyr" written on the back. Egypt's National Council for Childhood and Motherhood chief last week accused the Brotherhood of using children as "human shields". But the Brotherhood's Freedom and Justice Party's spokesman Tariq al-Mursi dismissed the claim. "The council is filing a complaint with an illegitimate prosecutor general... the whole procedure is illegitimate," the English-language Daily News Egypt quoted him saying.
Use #NewsfromElsewhere to stay up-to-date with our reports via Twitter.