Lebanon: Syrian conflict 'causes tourism slump'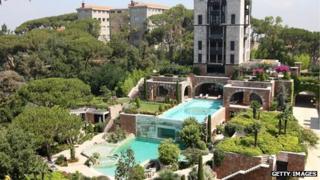 The conflict in Syria has resulted in a knock-on tourism slump in neighbouring Lebanon, it's reported.
Its beaches, bars and Roman ruins have historically been a draw - particularly for wealthy Arabs - but July's visitor numbers were down 27% on the previous year, Tourism Minister Fadi Abboud told Reuters news agency. Visitor figures were already down 25% on the two million of 2010 - the year before Syria's uprising - when tourism accounted for a fifth of Lebanon's economic output, the agency says. However, the industry's been further hit by Gulf countries imposing bans on entering the state amid heightened security fears.
Correspondent Nohad Topalian, visiting Bhamdoun al-Mhatta for the US state-backed al-Shorfa news site last month, describes silence in the once-popular resort. She quotes its mayor saying only eight of 35 restaurants or cafes and four of 14 hotels bothered opening this summer, having anticipated plummeting demand. Hotels across Lebanon are only 20% occupied, al-Shorfa reports. Ironically, a fifth of business comes from wealthy Syrians who've fled the fighting, according to Reuters. The Christian Science Monitor suggests a hotel's best bet would be to offer NGO-subsidised rooms to some of the estimated 1.2million Syrian refugees.
Use #NewsfromElsewhere to stay up-to-date with our reports via Twitter.